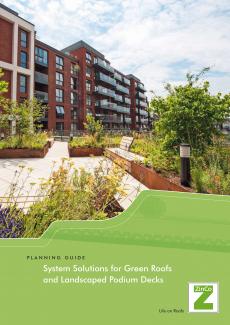 New Planning Guide "System Solutions for Green Roofs and Landscaped Podium Decks"
Our new planning guide provides an overview of the great variety of systems for green roofs and landscaped podiums we offer. It also includes the most recent build-up development – our new Elefeet® system for raised paving and decking.
No matter if you only want to get a general overview with the short description of the system and its special features or whether you want to find out detailed information up to technical data about the individual components of a system – this planning guide delivers both and thus meets the most diverse information requirements. Even further information such as Q37 specifications and installation instructions can be accessed via the QR Codes included in the guide.  By providing such a wide range of information, this planning guide is an extremely useful tool for planners and installers alike. See for yourself!
Browse or download our new planning guide.