Roof Garden – The Ideal  Multifunctional Build-up for Soft and Hard Landscaping on Rooftops
"Roof Garden" is a multifunctional green roof system build-up with high water storage. Depending on the depth of growing medium, lawn, perennials, shrubs or small trees can be planted. This build-up allows for a variety of design concepts, even water features can be designed. Various combinations are possible, e.g. with walkways, patios, playgrounds or even driveways. Concrete foundations for kerbs, walls or furnishings without penetrating the waterproofing and unhindered drainage underneath the Floradrain® FD 60 neo are possible. Trees can be safely fixed by using the ZinCo tree anchoring system Robafix®.
Within the roof garden, it is useful to store as much rainwater as possible to reduce the need for additional watering. The Floradrain® FD 60 neo drainage element allows very high water retention suitable for all aspects of diverse roof gardens. The water is stored across the roof area and reaches the plants by capillary action and diffusion. Water storage and irrigation from underneath, a so-called dam up irrigation can also be easily achieved by installing roof dam elements above the roof outlets. A roof laid at 0° fall is required to include this feature, along with a suitable waterproofing membrane. Inspection chambers allow for examination and maintenance of the roof dam elements at any time. With automatic irrigation machines, the water level of the dam up irrigation can be maintained even in periods of drought.
Technical Data
Build-up height
from ca. 270 mm
Weight, saturated
from ca. 370 kg/m²
Water retention capacity
from ca. 136 l/m²
System build-up
Diagram
Products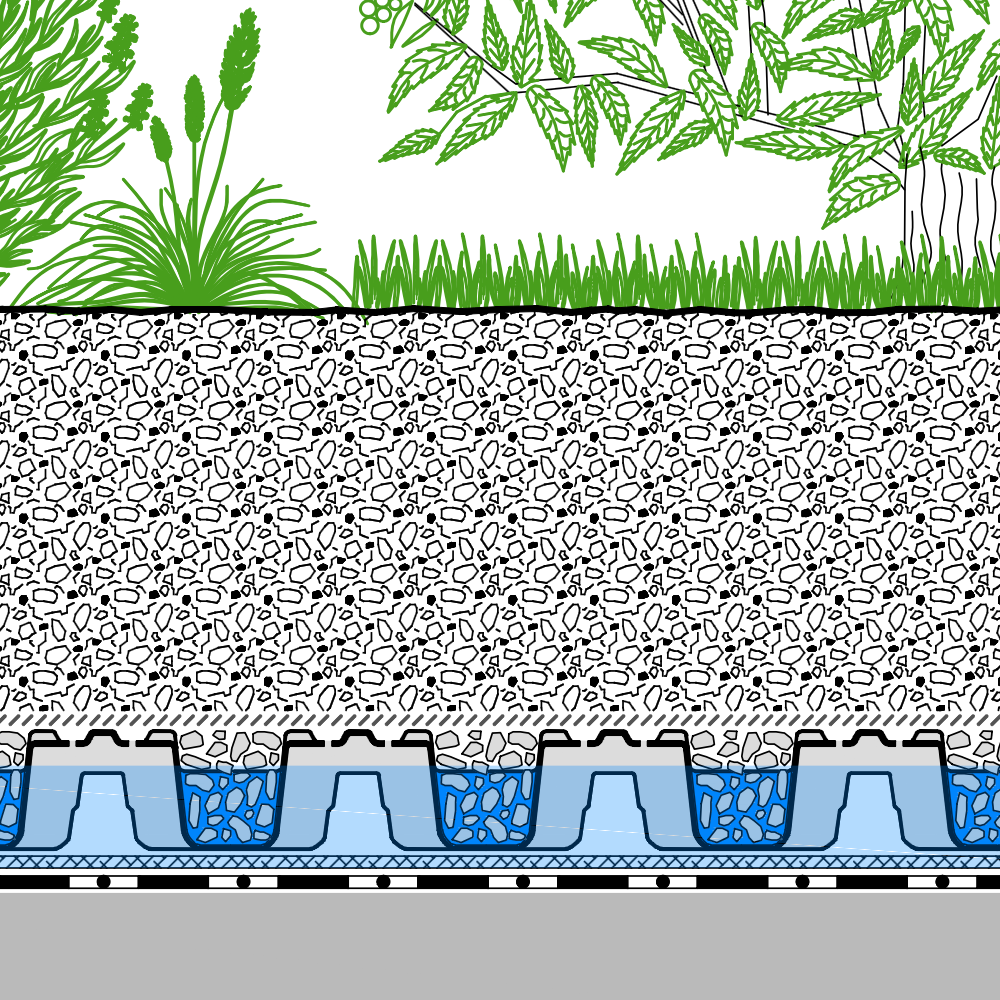 Product Details
Note
The system solution shown relates to the green roof build-up in particular. The roof construction itself is only shown schematically and must be planned and executed according to specialist rules for waterproofed roofs.